About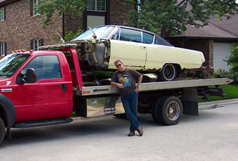 Pluck a Part is Tempe Arizona's largest junk car buyer. We offer our customers an exceptional price for their end of life vehicle.
What We Buy
We buy all makes & models of vehicles regardless of their year, or their condition.
Selling your vehicle is easy – you contact us, we provide a quick, fair offer for your vehicle, you accept, you drive your vehicle to our nearest location (or we arrange for towing) and we pay you on the spot!
Volume Junk Car Vendor Program.
If you have multiple vehicles to sell then you might be a good fit for our volume junk car vendor program. We have formed strategic partnerships with hundreds of similar junk car sellers (and are always looking for more) to ensure we can constantly provide our parts customers with a large inventory of fresh vehicles to pull parts from. Once set up, our team of junk car buyers will call you regularly to bid on your available vehicles. To get started, please contact your local Pluck a Part store at 480-848-2451.
Business & Partnership Opportunities
Pluck a Part, is the valleys fastest growing auto recycling business with a successful track record of acquiring and integrating solid businesses. As such, we are always looking for business and/or partnership opportunities such as:
Our Record
Our consistent record of buying premium junk cars has been the hallmark from which we were founded upon. Our commitment to our clients is simple. We will always strive to provide the best possible service while providing you with an honest price for your junk car.